Jordan. Home to Petra, one of the New Seven Wonders, as well as the east bank of the Dead Sea and the scenic Wadi Rum desert. This mysterious country had been high on my bucket list for the longest time.
The best way to explore a country is (almost) always in a rental car, where you can be the master of your own journey. I have read some travel blogs about driving in Jordan, but let me assure you that if you have driven in places like Kenya, Uganda, Nigeria, or the so-called Democratic Republic of Congo, then Jordanian roads are a breeze!
The Immigration part at the airport is surprisingly simple and pleasant. My wife and youngest daughter were traveling on their Kenyan passports, and to be on the safe side, they had gotten their visas in advance. Turned out that was actually not necessary, but better safe than sorry..
A Jordanian friend had referred me to a car hire service that gave me a great deal: JOD 30 (USD 42) per day for a Hyundai Elantra in a good condition, is a bargain anytime! Once we were through immigration, the gentleman was waiting for me outside the Starbucks in the Arrivals hall. At 1 am! If you need a car hire in Jordan, then send me a mail because I can recommend him anytime!
With local SIM cards available from the Arrivals hall, we were all set, with data bundles and Google Maps ready to guide us!
Highways in Jordan are mostly in an ok condition and quite well-lit at night. Some new layers of tarmac here and there wouldn't hurt, though. Ideally, two years ago! Markings of the lanes are non-existent, and the signage is only occasionally helpful. After a nice night's drive on virtually deserted roads and a long detour after missing a turn, we finally arrived at Kempinski Ishtar Dead Sea at close to 3 am!
A pro tip for travel lovers: GHA Discovery is probably the best loyalty program in the hotel industry. A Titanium membership (the highest level) means an automatic double room upgrade whenever available. A spacious suite with a terrace facing the Dead Sea is not the worst thing that can happen to a family of 4!
The Dead Sea
Lowest point on Earth – 10 times saltier than the ocean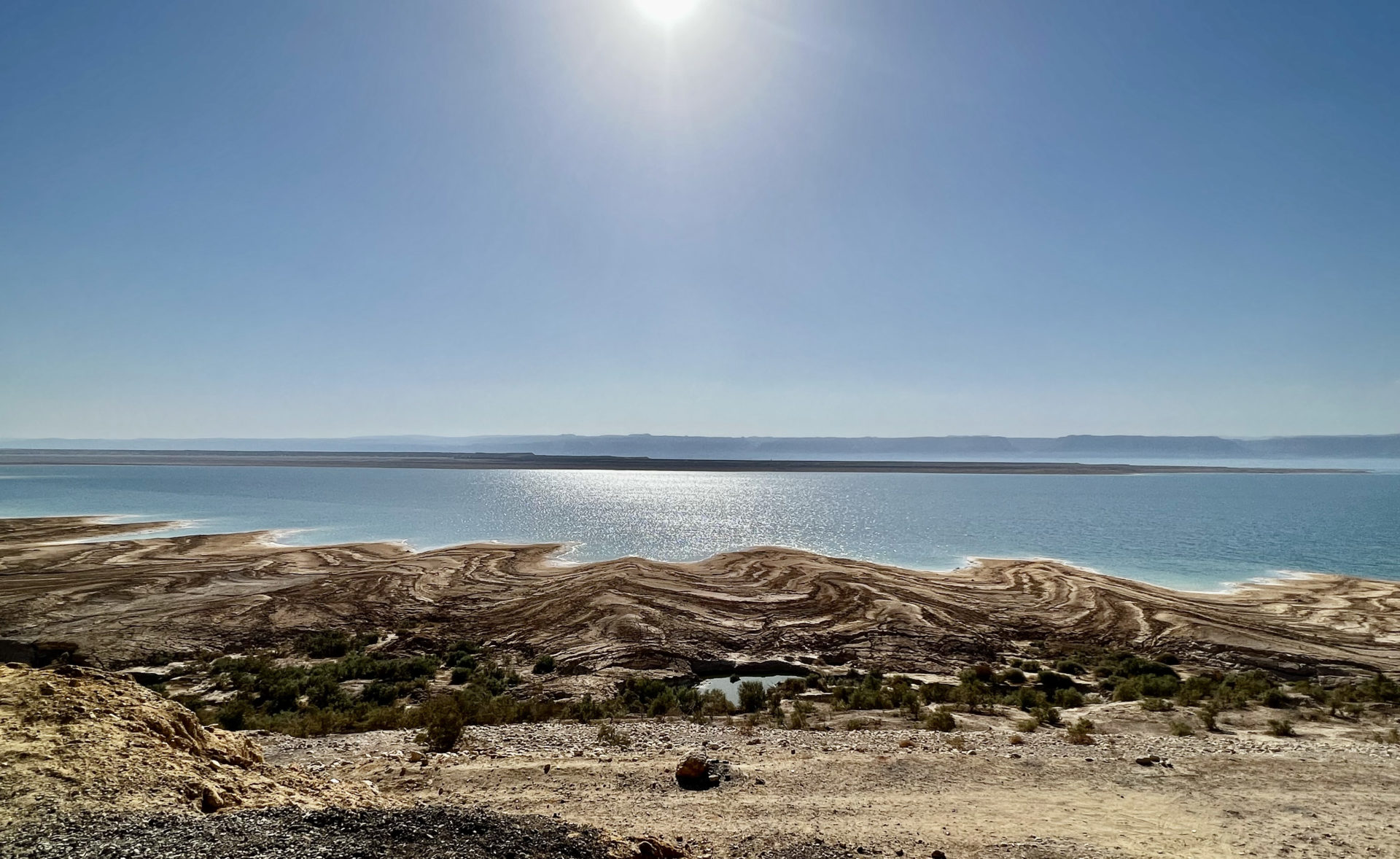 The Dead Sea is about 10 times saltier than the ocean, so nothing bigger than microorganisms live in it. The water is so dense it feels like oil, and because of that density, it is also impossible to sink or dive in it. All you can do is float on top!
The water is also rich in other minerals, such as sodium chloride, calcium chloride, magnesium bromide, sulfur, potassium chloride, and magnesium chloride. These things are great for the skin, which is why the Dead Sea is popular as a therapeutic destination. Floating in it, and wrapping yourself in the mud, has some great effects on your skin. Beware that getting this water in your eyes is a painful experience! Once you get in there, you also feel the almost instant burning sensation on your skin, not to mention the taste if you get it in your mouth!
While Israel has turned its side of the Dead Sea into a major attraction, Jordan has so far made less out of it, with only a handful of hotels charging rather steep prices, albeit for a top-notch experience.
While alcohol is legal and more easily available in Jordan than in most Middle Eastern countries, don't get your hopes high on buying a nice bottle of wine at a reasonable price anywhere near the Dead Sea. The closest liquor store is actually in Amman! There are bars, and all the international hotels have the stuff on their menus. The selection is however limited, and at Kempinski Dead Sea, the price of a bottle of wine starts at JOD 50 (USD 70)! Essentially, the price of a Casillero del Diablo there is what you would pay for a nice Amarone in a shop. If you plan on having a drink in the room, then BYOD!
The swimming pools at Kempinski Dead Sea are an experience in themselves. The main, snake-shaped pool running through a big part of the property, was an instant hit with the kids, while the two infinity pools are a sight to behold!
I am not sure how many restaurants the resort has, because we didn't manage to try all of them. The flagship Jordanian restaurant was, however, delightful. You won't go wrong with any of the dining places here, though. While I am generally not a fan of buffets, the breakfasts at Kempinski Dead Sea are actually something in a league of their own.
The Spa is one of the biggest in the Middle East and an experience to behold. You won't fail to notice its presence, as the staff talks about it all the time! A nice 1.5-hour deep tissue massage followed by a facial leaves you feeling fresh and rejuvenated!
Petra
Capital city of the Nabatean Kingdom. Jordan's #1 tourist attraction
Petra. The capital city of the ancient Kingdom of Nabatea and Jordan's top tourist attraction. Known as the "Lost City," hidden in narrow gorges surrounded by steep mountains. Petra is mainly known for two buildings: The Treasury and the Monastery. The Treasury is the first building people see when arriving through the Siq – the 1.2 km gorge that most visitors use to access the site. There are other routes, too, used by locals, but as a tourist, you are unlikely ever to see those. The final scenes of Indiana Jones and the Last Crusade were shot outside the Treasury, but the fanciful story about the Holy Grail being located inside that building is obviously nothing but screenplay!
At the far end of the tourist trail, you find The Monastery, a building as beautiful and iconic as the Treasury, if not more so. While the trail between the two sites is only 2 kilometers, the steep climb under the scorching sun and 35°C feels much longer. Especially when it's a family hike with two kids!
The local bedouins, who run the tourism industry in Petra, are ready at all times to offer rides with donkeys, mules, or camels. With the kids getting exhausted from the heat and the terrain, mules became a very viable option, as they can take you the furthest up!
Contrary to the claims of some Western historians, Petra was never abandoned after it stopped being a capital city and a trading hub. The Bedouins continued living there, and they still do. The place was nevertheless largely forgotten by the outside world for centuries until a Bedouin brought the Swiss explorer Johann Ludwig Burckhardt there in 1812. Burckhardt, wearing Arab attire and using the pretext of sacrificing a lamb at the Tomb of Aaron, became the first European in modern times to see Petra. Some historians later referred to this guided tour as a "discovery" of Petra.
Do not plan for anything less than a whole day when visiting Petra, and brace for the scorching sun. Exhausted, we missed out on the Petra by Night Show. While it is supposed to be totally spectacular, the kids did not seem thrilled at that prospect.
Next to the Petra Visitors Centre in Wadi Musa, the Cave Bar credits itself with being the oldest bar in the world. It is located inside a 2000 years old cave that was initially constructed as a tomb. I did not manage to find out how long it has been used for its current purpose, but the claim of being the "world's oldest" may be a bit ambitious. Then again, maybe the original resident was buried with some wine jars..
Taking a break from the international hotel chains, we stayed at the Old Village Resort while in Wadi Musa. As the name indicates, this is actually an old Bedouin village turned into a hotel resort. Walking through the property, you get a few interesting history lessons. The clan that runs the resort clearly has some skilled digital marketers, though, as the place isn't nearly as spectacular as its online presence would indicate. The restaurant is, at its very best, 5/10. The view from there is lovely, though.
Wadi Rum
The ultimate desert experience
Wadi Rum is the ultimate desert experience in Jordan. This Protected Area belongs to the Bedouin community and is kept in a pristine state to preserve its stunning natural beauty.
The dramatic desert scenery has made it a popular site for movie productions. Many scenes from Star Wars: The Rise of the Skywalker were shot here, as were parts of The Martian, Dune, and the grand old classic Lawrence of Arabia.
With its dramatic mountains and rock structures, sand dunes, and pre-historic sites with rock carvings, Wadi Rum is an experience to behold.
You obviously can't go to Wadi Rum without going for a Desert Cruise where you get to see all these attractions. At night, star gazing is equally unmissable, with spectacular views of the clear night sky and the Milky Way.
Memories Aicha Luxury Camp is one of the best camps in Wadi Rum. Run by local Bedouins, it offers a very authentic yet upscale desert experience. It offers a choice between spacious desert tents and sci-fi-style bubbles. As we were traveling with kids, we opted for one of the large tents. The experience was amazing, though.
Aqaba
Beach bliss by the Red Sea
Built on the ruins of the ancient city of Ayla, Aqaba is a cherished beach holiday destination for Jordanians, and Saudis craving a drink. Being the only port city, and in fact, the only city on the country's 26 km coastline, this is the only option for beach vacations in Jordan. Aqaba is a special economic zone, so when entering or exiting the city, you have to pass through a customs control. Due to its status, the city features a number of Duty-Free shops, with limited selections but quite good prices.
The international beach hotels, i.e Kempinski, Mövenpick, and Intercontinental are next to each other, and in the same price range. Inside the Suraya private development zone, there is also a Marriott, and the Alamanara.
Aqaba lies at the intersection of four countries, with Eilat on the Israeli side forming a continuous urban zone, albeit separated by a border. 5 km to the southwest, there is the Egyptian border, and 12 km to the south lies Saudi Arabia.
Other than a fortress and a few remnants of buildings, little is left of the historic Islamic city of Ayla. The name, however, lives on in Ayla Marina Village, an upscale waterfront private development zone in the northwest, going up to the Israeli border. Featuring a manicured marina and yacht harbor, with modern, tradition-inspired low-rise architecture with the aesthetics of classic coastal towns in the Middle East, this place is definitely worth a visit on your trip to Aqaba. You will find some of the best restaurants in Aqaba here, so my travel tip is to have many of your lunches and dinners in Ayla.
The other good dining area in Aqaba is the Royal Yacht Club, with a nice little selection of waterfront bars and restaurants.
Amman
The hectic and crowded capital city of Jordan + a trip to Mount Nebo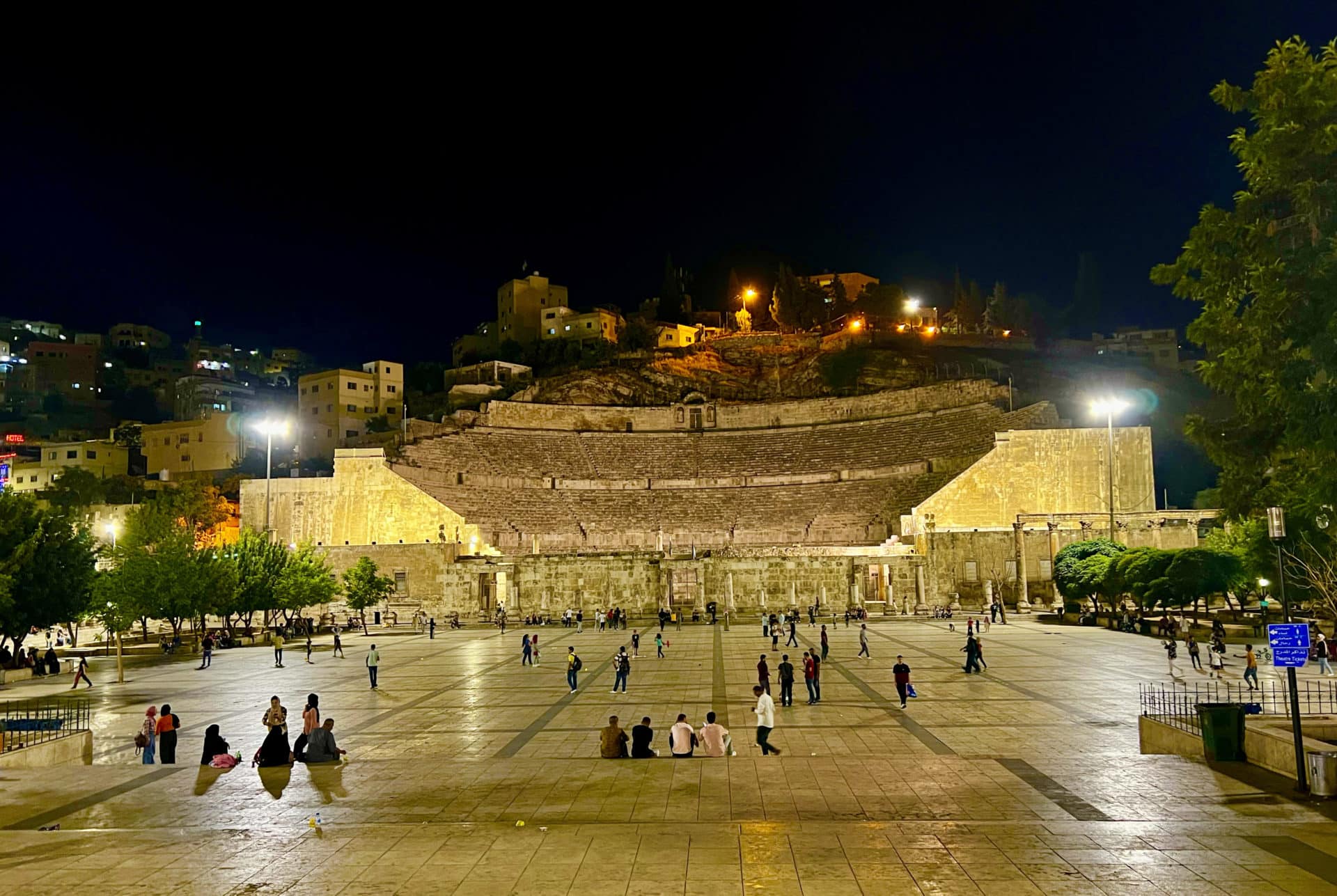 Driving into Amman in the afternoon rush is as colorful an experience as it may sound! This is truly one of the moments when you try to recall what life was like before Google Maps! Even with that technology from Mountain View, California, it is still easy to miss some turns and find yourself in traffic situations you'd rather confine to your nightmares! Spice up the situation with two girls in the backseat urgently needing a bathroom, and you are set for an exciting road experience!
Of the three Kempinskis in Jordan, the one in Amman is the least exciting by far. Being a Kempinski, it is obviously still OK, but nothing more than that.
My friend and former colleague Ammar, who lives in Amman, in all his kindness took us on a guided tour of downtown Amman. The ultimate street food experience there is a simple restaurant called Hashem, frequented by the royal family, and showcased to prominent visitors. Being a great fan of Middle Eastern food, I am happy to confirm that Hashem indeed should be on the checklist of any foodie visiting Amman. Had Anthony Bourdain made an episode from Jordan, this place would almost certainly have been on his list.
Other than an old Roman theatre, Amman downtown doesn't have a lot of tourist attractions. The vibrant ambiance in the streets is an experience in itself, though. When accompanied by a local, the shopping experience becomes fun too! Putting my bargaining skills to the ultimate test (with some good help from Ammar), my wife and daughter got themselves some lovely traditional dresses for less than USD 100 in total! Even my Jordanian friend was impressed!
The biblical site of Mount Nebo is a short drive from Amman. From here, you get a lovely view of the Dead Sea and the West Bank. According to the Old Testament, this is where Moses finally got a glimpse of the Promised Land before his death. An old Byzantine chapel on top of the hill marks the exact spot where Moses allegedly stood.
The airport in Amman is modern and efficient. Some confusion about Covid vaccination documents (who cares about that in 2022 anyway?) took all of the time that would otherwise have been spent in the tax-free shops. That left me with some dinars that really aren't very useful elsewhere, so if you are going to Jordan and need some local cash, let me know! 🤣
Tourism in Jordan
Perspectives of a travel industry professional
Jordan attracted 2.9 million international arrivals in 2022. A paltry figure compared to 11.7 million in neighboring Egypt, not to mention 51.4 million in nearby Turkiye the same year.
Most of the international tourists to Jordan originate from other Middle Eastern countries, while only a handful of adventure-seekers from the wider outside world find their way to this spectacular country. This despite the fact that Jordan's key attractions, i.e, Petra, Wadi Rum, and countless Biblical sites, are just as spectacular as the destinations on most people's bucket lists.
With liberal visa policies in place and decent infrastructure, the country has what it takes to grow its tourism sectors to multiples of the current levels.
The key impediments to rapid tourism growth, from my perspective, are marketing, accessibility, and to some extent, the cost of accommodation. While the images of Petra are familiar to most people, many, perhaps most, don't even know that the site is in Jordan. There is usually a big national stand for Jordan at most of the major international tourism industry fairs, such as ITB and WTM, but aggressive international marketing campaigns to sell the experiences of Petra, Wadi Rum, etc., and connect them in people's minds with something they can easily book and see would likely boost numbers. I have seen a few, but nothing that could easily entice people to go to a website, book a trip, and fly in for the experience without breaking the bank.
That brings me to the next point: Amman has about 80 direct international flight connections, and Aqaba has 8 (4 of which are to other Middle Eastern countries). Each additional direct connection will increase tourism potential by making trips to Jordan shorter and more accessible. Aqaba, in particular, is a pleasant place and only a short drive away from Petra and Wadi Rum. With more direct flights to Aqaba, these places could become weekend destinations for European visitors, while more connections to the Americas, South Asia, Southeast Asia, and Oceania would open up for more long-haul travelers.
Finally, international hotels in Jordan are generally on the pricier side. The Movenpick, Intercontinental, and Hyatt in Aqaba are all 50%-100%+ more expensive than comparable counterparts in Dubai. Since occupancy levels looked decent as far as I could see, there is probably space for more players, which would drive down prices and make the country attractive to more travelers. There are many ways a government can address investment in the hospitality sector, e.g. by offering available land on favorable terms, tax breaks, etc.
Jordan is a fascinating, beautiful country with all the potential to become one of the major tourism destinations of the Middle East. That would be good news both for the country and for travelers across the world seeking new destinations and experiences.