A siege-like situation
The day after Anders Behring Breivik's attacks, Oslo was like a city under siege, with armed soldiers patrolling the city centre.
Yesterday was a day of national shock and paralysis in Norway. The reality had only begun to sink in: Norway had been hit by a terrorist attack, leaving at least 92 people dead, most of them teenagers.
Oslo seemed like a city at war: We are used to seeing armed police only when VVIPs, like US, Russian or Chinese leaders are visiting. Otherwise, we take pride in our unarmed police.
The day after the terror attack, police wielding MP5s was hardly even the most noticeable feature in Oslo: Government buildings were guarded by heavily armed military personnel. For Norway, that is borderline unimaginable!  The streets surrounding the Government HQ area were completely sealed off, and guarded by soldiers with HK-416s.
It felt like a siege. It was the first, and, hopefully, the last time in my lifetime that anyone will ever see something similar in Oslo!
After walking around, taking some photos, I met up with a friend who had been in the vicinity when the bomb went off. We met up at a café just opposite one of the military barricades, talking about what had happened. With him was a lady who had been in the VG building, facing the PM's office. Like the other people in that building, she had miraculously escaped without injuries, and had been one of the first people out on the street after the blast, witnessing the epicentre of the damage first-hand.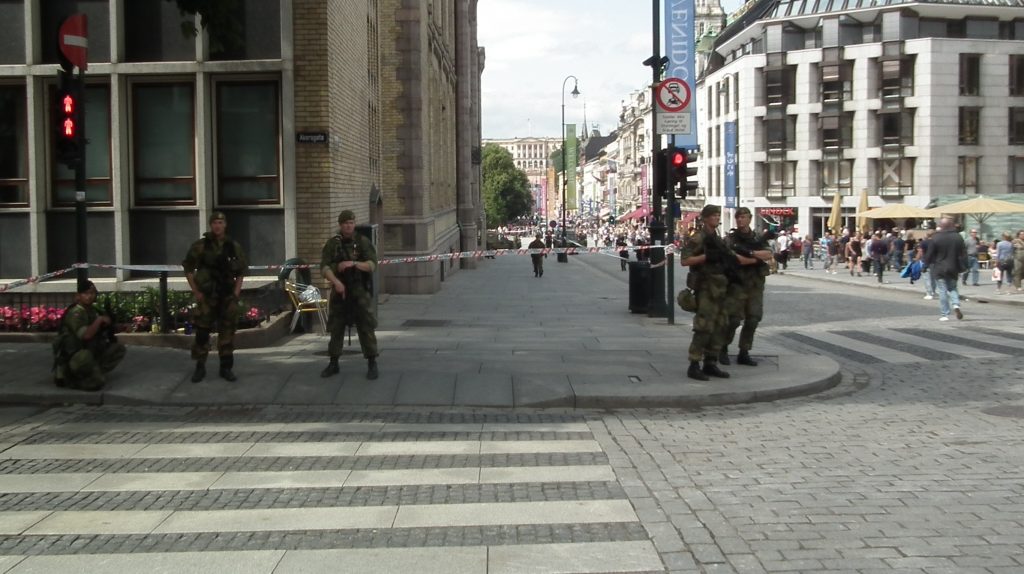 We sat there for hours, talking about what had happened, and about the unreal feeling of being in a city under siege: As far as I know, there has never been a situation since WW2 where armed soldiers have been deployed to seal off parts of the city centre in Oslo.
We we later joined by two more people, yet the conversation topic remained the same.  We were all constantly on our phones, checking the latest news updates as they came in.
Someone eventually suggested that we go watch a movie to get our minds off Breivik and the attack, at least for a while. I was quick to open filmweb.no and check what was on. Evidently, in late July, even the movie theatres are in a summer vacation state, so there wasn't much on, besides Harry Potter. In the absence of any better alternatives, we opted for that. At least, that was one movie where we could be sure that good would prevail over evil. A nice break from the current sad reality in Oslo.