If you are a seasoned traveler in Kenya, you may feel that Mombasa, Malindi and Lamu are "been there done that", and that Diani has become too touristic too. In that case, Tiwi Beach is right up your alley.
Tiwi is essentially the coastline North of the Kongo River (no, not the one flowing through Kinshasa and Brazzaville).
South of that river is Diani Beach. Less crowded than those right north of Mombasa, it still features a dozen tourist hotels. More are likely to come up. Take a five-minute stroll, and beach hustlers will inevitably approach you with souvenirs, coconuts, camel rides, glass boat trips, etc.
Tiwi – quiet and pristine
Cross the Kongo River, and find a different universe. Up until Amani Tiwi, there are still beach vendors, but already less aggressive, and friendlier.
Where that beach ends, there is a narrow, dusty path across a rock, over to the other side. Locals will warn you that bags have been snatched there. For your peace of mind, you may want to pay someone 100 shillings to join you for the 5-minute walk.
Part II – the whole beach almost for yourself
The next part of Tiwi Beach is pristine, and almost deserted. There is the Coconut Beach Lodge, a quiet boutique hotel at the southern end of the beach. Other than that, only villas and cottages for the next few kilometers.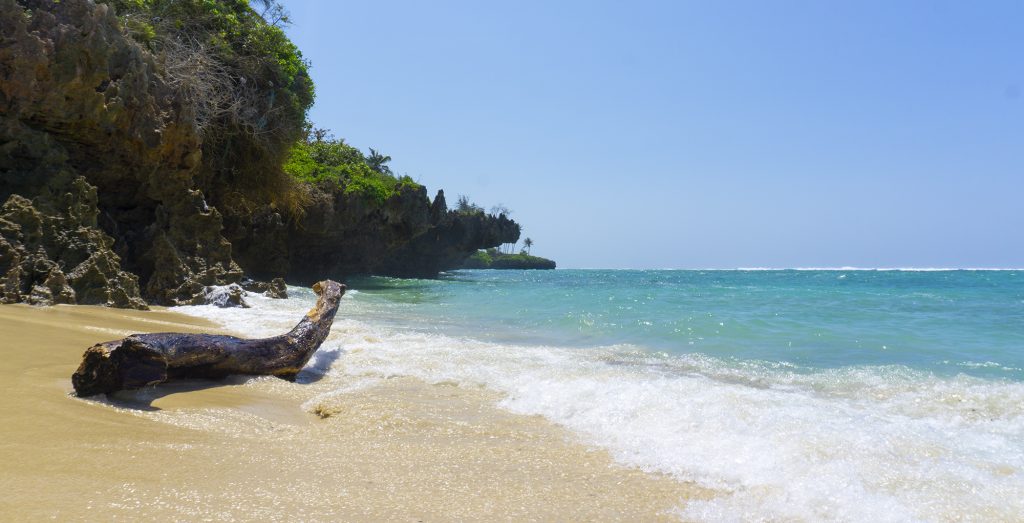 The people you meet along the beach are overwhelmingly friendly without much commercial hustle. Some ladies are ready to sell colourful fabrics to people who are interested. Some occasional gentleman is more than happy to pick and open a coconut from a palm tree for KES 100 (USD 1), if you ask. A handful of fishermen are going about their businesses in their traditional wooden boats.
As you walk along the beach, you may encounter 10-12 people who are not locals. During the high season, that is.
The few tourists in Tiwi are generally a seasoned lot. Somewhere along the beach is also a camp site, where travelers drive in with modified landcruisers and range rovers, with mounted solar panels. Obviously, you don't do that in Kenya unless you know exactly what you are doing, as most other beaches have at least some level of a crime risk.
So far away, yet so close
Only a short distance from the malls, bars and restaurants in Diani, Tiwi remains blissfully outside the commercial tourist zone, for now. With international arrivals to Kenya growth in the high double digits every year, and the new Dongo Kundu Bypass road soon connecting the South Coast to Mombasa, this situation won't last.
The time to enjoy Tiwi is now. Soon, it is likely to become the next hot destination for avant-garde tourists, and later on, a regular tourist machine. By then, you will find me in some other place, further off the beaten track.