Diani, in South Coast offers a far less congested option compared to the crowded beaches in Nyali, north of Mombasa.
While Diani has a couple of mass tourism "machines", there is also a number of small, cosy boutique hotels. On top of that league, is AfroChic Diani Beach.
Located right on Diani Beach, this exquisite little 10-room hotel is probably as close to perfection as you can get.
Already on arrival, you know that you are expected, and all the staff already know who you are. Their complimentary welcome drink is a bit more elaborate than most other hotels. The AfroChic specialty is a sparkling wine / passion juice cocktail, mixed to your preference. Your waiter ensures your glass never runs dry while your luggage is being carried to your room. All check-in formalities are then handled from one of the poolside couches.
The staff are impressively attentive and friendly. Adriaan, the ever-present manager, always seems ready to go that extra mile for whatever guests ask for.
I am generally no fan of full-board hotel packages (in fact, I hate them). I make a notable exception for AfroChic, though. All meals here are à la carte, and with no fixed meal hours. They even emphasize that you can have breakfast at 17:00, should you so desire. The chef is also undoubtedly one of the best in Diani, so this is definitely not a place for weight watchers!
The Coast being what it is, seafood buffs will have a great time here. I would deem it borderline criminal not to have their lobster thermidor, as it is a total thrill!
Anyone who has traveled extensively in Kenya and East Africa, is familiar with the 90% syndrome in hotels: Good quality on 90-95% of the finishing, and a half-baked 5-10%, spoiling the overall impression. In AfroChic, we actually couldn't find a single noticeable defect, or any lack of attention to detail in the interior design.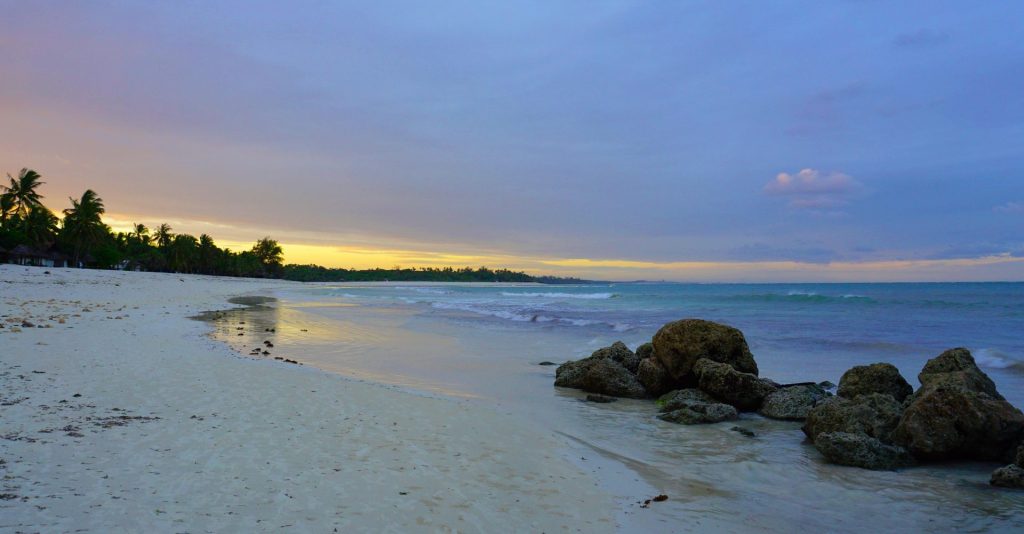 The Diani Beach, right in front of the hotel, is excellent for walks and camel rides, and some splashing in the water. The inside of the reef is teeming with marine life, including sea urchins, so swim at your own risk! The local beach boys are completely harmless, but will definitely seize any opportunity to sell you any item imaginable, at inflated prices. A guided tour of the reef with them, is quite an experience, but other than small souvenirs, you shouldn't even consider buying anything from them. You are better off booking xperiences such as glass boat tours, jetskis, from the hotel, as quality will be guaranteed then.