I like describing places as hidden gems. Probably because that is what we look for. St. Thomas Royal Palm might soon be one. For now, in gem analogies, it is an uncut one. Well, hidden too..
After cutting through Tsavo East and the new road from Sala Gate to Malindi, we were relying on Google Maps to show us the way.
"Are you sure this is the right way?", my wife said as we got to the end of the tarmac on Casauarina Road.
"I think I see tarmac ahead. Probably just a rough section", I answered, optimistically.
30 minutes further down the dirt road, we were still on the same discussion. According to Google Maps, the place was now just around the corner. "We should have stayed on the main road. I am sure that one must me tarmacked right up to the gate", I said, staring at my screen again. Once again, we had ended up taking the bumpier back road, or so I thought. Eventually, a structure similar to the pictures we had seen, appeared between the palm trees.
Modern, Swahili-inspired architecture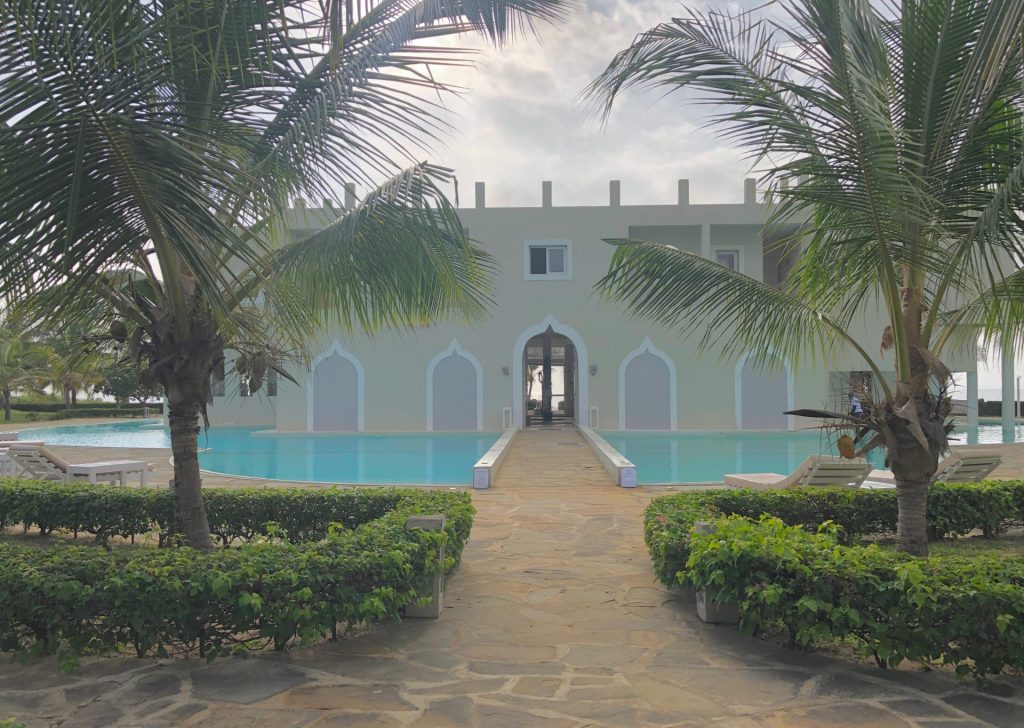 The tastefully designed structures and outdoor areas are done in a modernized Swahili style. A bit plain-looking, but definitely elegant. The restaurant building is built like a small castle on a peninsula, with a vast swimming pool as its moat.
That's where the castle analogies end.
The resort – the exterior, that is – is only a couple of years old. What exactly happened afterwards, is unclear, but whoever did it, never got to the interior design. There management had changed, and the most recent team had arrived just a few days before us.
Still work in progress
What the place has in exterior design, is it lacks in the interior. The rooms looked a bit casually finished, with no decor, and some simple placeholder furniture casually thrown in. Cheapish, leaking air conditioners, and bathrooms straight out of a 2.5 star hotel.
The walls could easily have looked elegant with some simple, African decor. Instead, they just look plain and cold. Although I don't really watch TV, I also couldn't help but notice the tiny 32 inch screen which looked totally out of place in the spacious sitting room of our suite.
The aforementioned restaurant could have been something really special, but equally conveys the impression of a huge empty space filled up with random furniture. A limited menu with a binary wine selection (they had red, and white) spoke volumes about a 3 star hotel in a 5 star wrapping. The instant coffee served at breakfast the next morning, confirmed the same impression.
Laura, the new manager, who had arrived one week earlier, was quick to admit that quite some work remained with this hotel. With her background was from a five-star hotel in Tanzania, she still had her work cut out, for sure!
It was the 24th, and the whole Coast was fully booked. Laura offered us the special Christmas dinner set menu compliments of the hotel , so we decided to make the best out of it. Despite the apparent under-investment in all those final touches that make a hotel five-star, we also saw that the management and the staff were genuinely trying their very best to turn the place around, and that makes a huge difference!
Already from the evening, we saw that changes were happening. More furniture had been added, the AC was being repaired, and other minor fixes were being done. The Christmas dinner was a massive upgrade from the less-than-impressive meals from the previous evening, and at our request, the wine selection had also improved
Incremental efforts continued for the days we were there, while the friendly staff did what they could to make the stay pleasant.
Potential, but still untapped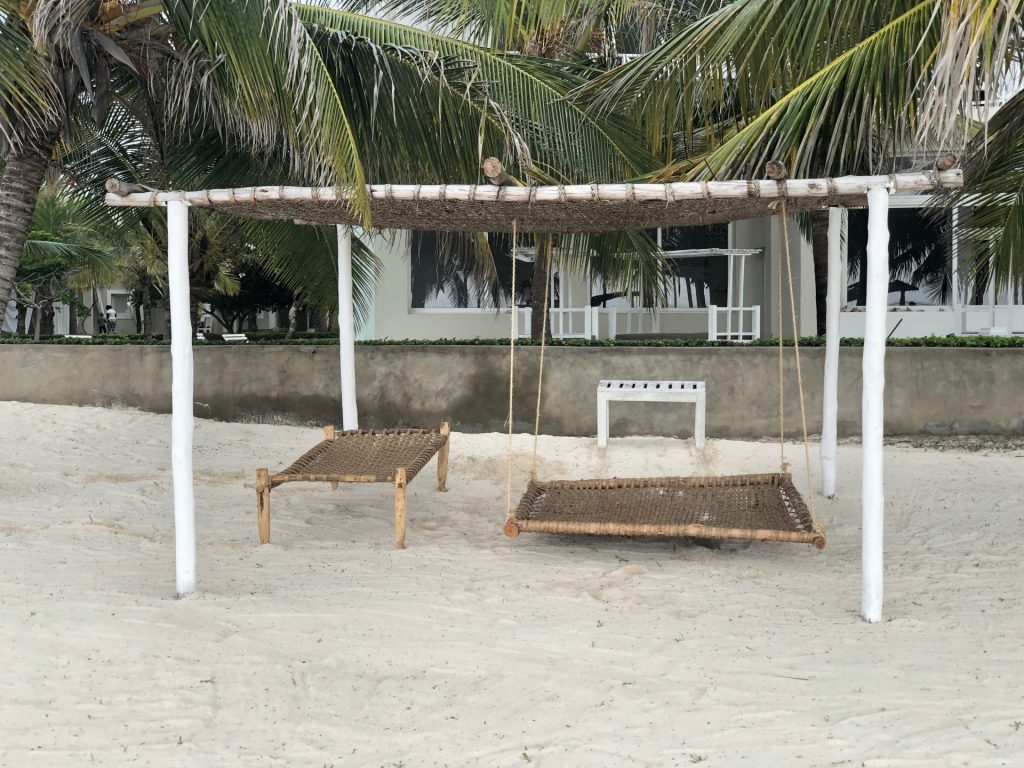 Royal Palm, sorry, Life Resort St. Thomas Royal Palm (please do something about that name too!) has a lot of potential. The beach is simply sublime and private, and the pool is made in heaven! Gotta love those swinging beach beds too! Some serious investments need to go into the rooms and the restaurant, and they need to get that swim-in bar fixed and opened!
There are several nice beach restaurants in the area, but do bring a 4WD if you intend to drive yourself!
One day in the not so distant future, Royal Palm (with all those awkward add-on names) may be an icon of a luxury beach resort in Kenya. For now, it remains a very uncut gem!
My Pictures from the Kenya Coast