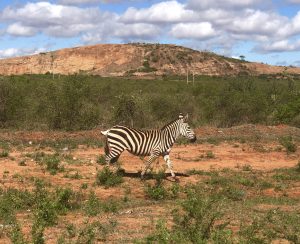 The 490 kms of road between Nairobi and Mombasa can take 6-7 hours with good driving conditions. While there are no major stopover attractions along the road, it is a scenic drive.
About 100 kms of the mostly single-carriage road runs between the Tsavo East and Tsavo West national parks. Amboseli is also not far off. Hence, part of the road is dotted with monkeys, zebras and some occasional elephants and giraffes. In other words: Watch out, and drive carefully!
The road passes through a dozen small towns where hawkers make a living from selling items to passing motorists. You will find them everywhere on the side of the road, or in the middle of it. Most of these towns exist because of the road. Hence, they are basically vibrant marketplaces where passers-through can buy fruits, water, sodas and snacks.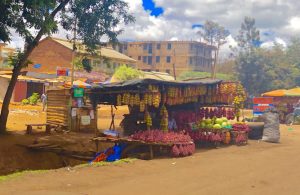 Don't get your hopes too high about finding a decent coffee, though. You will get some of the best coffee in the world in Nairobi, Mombasa and in some major towns. In smaller places, people still drink this dishwater commonly referred to by the misnomer of instant "coffee".
Madaraka Express, aka. the "SGR"
A significant part of the road runs along the trajectory of the brand new, Chinese-built Madaraka Express railway. Popularly, it is referred to as the "SGR", an abbreviation for "Standard Gauge Railway". It is a flagship of 21st century Kenya, and a great source of national pride. Two years after its launch, it has become so popular that tickets are frequently sold out weeks in advance. This was part of the reason why we opted for a road trip (flights were basically sold out too), but that is a different story.
Cargo transport used to make the A109 a nightmare. Frequently driven by sleep-deprived lunatics high on miraa, trucks in the A109 used to be the main cause of accidents and traffic jams. The SGR has decimated their number, though, making the road trip a surprisingly nice experience.
Nice road trip. Not a fast one!
On my first trip to Mombasa 17 years ago, some occasional traces of tarmac between the potholes were the remnants of what was once a road. Today, you can comfortably sip on a latte while cruising down the same road. If only you could get a decent coffee between Nairobi and Mombasa..
Entering Mombasa, you will inevitably encounter some traffic jams. Just like in all other parts of Kenya, some of the major roads are being expanded, with endless traffic chaos as a result.
The US government together with Bechtel have been in talks with Kenyan authorities for some years, to build a completely new, six-lane expressway between Nairobi and Mombasa. When or if completed, the road trip to Mombasa will be down to four hours. A significant improvement from the current 7-8. With plenty of towns and traders, as well as wildlife and cattle along the road, the A109 is a scenic experience. It is however not a fast one, so just relax and enjoy the ride while its lasts!
My Pictures from the Kenya Coast